The 2023-24 Colorado Ski Season Is Here
Arapahoe Basin gets chairs spinning first for the 2023-24 season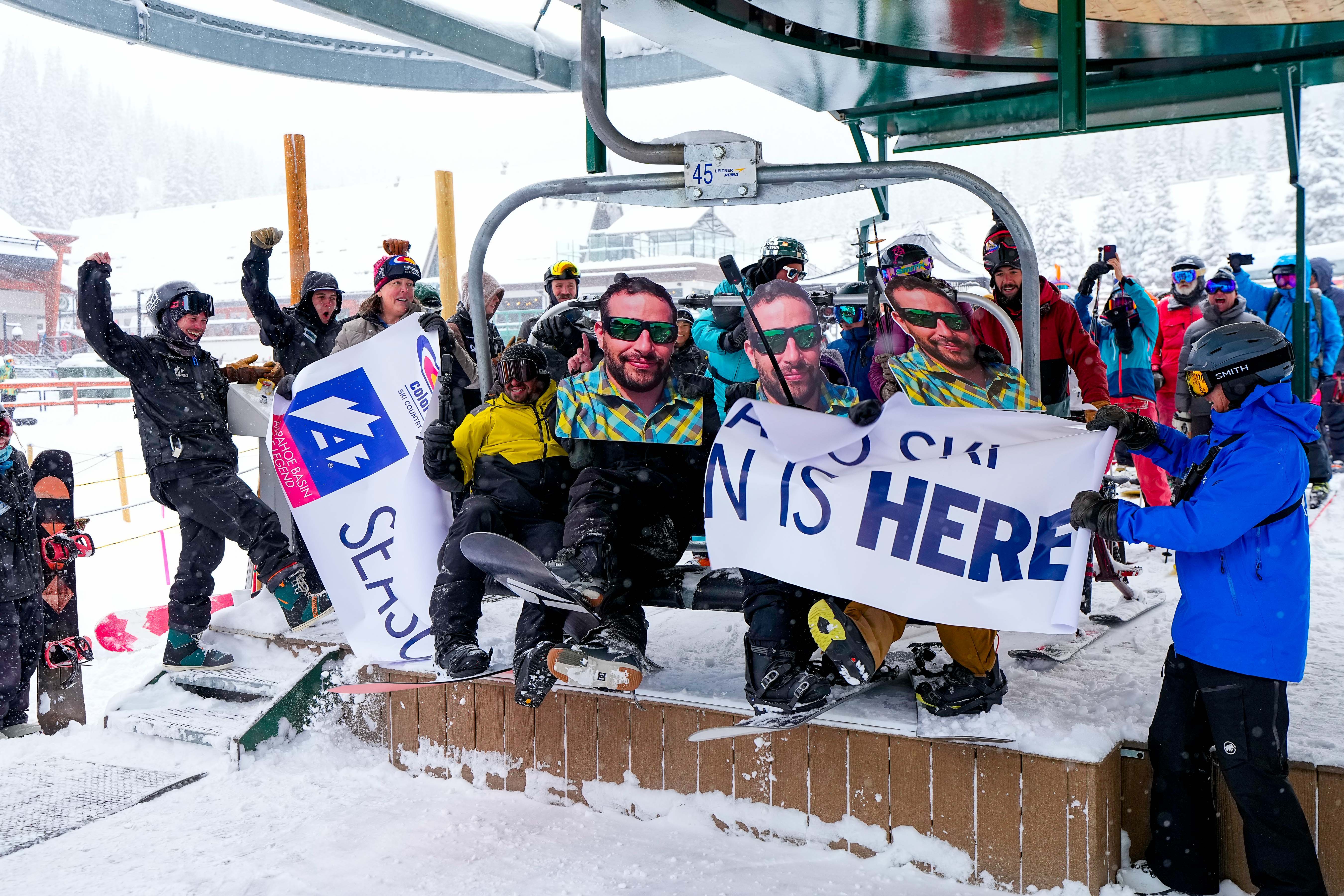 The 2023-24 ski season officially kicked off in celebratory fashion in Colorado Ski Country USA on Sunday October 29 at 8:30am, as Arapahoe Basin's Black Mountain Express chairlift sent its first load of jubilant skiers and snowboarders through the opening day banner. As has become tradition, the first passengers were dedicated snow lovers, some of whom had begun their day with a pre-dawn parking lot breakfast—an avant ski, if you will.
The crowds arrived in good form, showing off Halloween costumes and enjoying the jubilant atmosphere of the official opening of Colorado's legendary ski season—fittingly at the resort that's Legendary for a Reason. Arapahoe Basin recently announced that October marks the first month it's operating on 100% renewable electricity, which powers the lifts, buildings, electric vehicle chargers, and snowmaking.
Arapahoe Basin, along with several other Colorado Ski Country USA (CSCUSA) members, have been making snow for the last couple of weeks to ensure they're ready for the excited skiers and snowboarders looking to take their first turns of the 2023-24 season. Temperatures dropped and with snowmaking conditions improving, more Colorado resorts are expected to be firing up their lifts in the next few weeks.
"Ski resorts are always investing in the guest experience," said Melanie Mills, CSCUSA president and CEO. "From new terrain to new food and beverage options and new housing and childcare options for their employees, the members of Colorado Ski Country USA have worked diligently throughout the summer to get ready for another incredible ski season."
What's New in Colorado Ski Country USA
While skiers and riders were feverishly refreshing their weather apps, CSCUSA member resorts were putting the finishing touches on capital improvements and other projects. This season's debuts will include the completion of Steamboat Ski Resort's 3-year, $220m Full Steam Ahead redevelopment featuring new terrain, a new food hall, a completely transformed base village, and the longest, fastest 10-person gondola in North America.
Aspen Mountain will unveil Hero's, its first terrain expansion in close to 40 years, featuring 150 new acres of advanced and expert chutes, glades, and trails.
Copper Mountain will cut the ribbon on the Aerie, a brand-new, 25,000 sq. ft. mid-mountain lodge that houses Forage and Feast, a full-service restaurant featuring Colorado cuisine at its finest.
And while 60 years old can hardly be considered "new," CSCUSA, a not-for-profit trade organization representing 21 Colorado ski and snowboard resorts, is schussing into its seventh decade as the global voice of the Colorado ski industry. CSCUSA's focus on supporting the business side of the ski industry is reflected in the record-setting 14.8 million skier visits during the 2022-23 ski season.
More Mountains for Your Money With Colorado Ski Country USA Family Ski Passes
This season, CSCUSA is introducing two new pass products designed to give families more mountains for their money. New this season, Purgatory Resort has also joined the CSCUSA Gems family, an addition that will give Gems pass and cardholders 11 classic Colorado ski areas to explore.
CSCUSA is dedicated to getting folks on the slopes, whether they want to get out there with the whole family, enjoy a bluebird day on their own, hit the slopes with a friend, or get access to every resort with no limits and no blackout dates. Visit coloradoski.com for more information about:
Kids' Ski Passport (gr. 3–6) – four days at each of 20 CSCUSA member ski areas for $65. Thanks to the presenting sponsor Christy Sports, each Ski Passport comes with two free daily junior rental packages.
NEW Gems Teen Pass (ages 12–17) – two uses each at 11 CSCUSA Gems ski areas for $199.
NEW Gems Parent Pass: two uses each at 11 CSCUSA Gems ski areas for $299. Available only with the purchase of a 2023-24 Ski Passport or Gems Teen Pass; limit one per household.
Gems Discount Card – $48 gives cardholders BOGO adult lift tickets or 30% off a single adult lift ticket; valid for two redemptions each at Cooper, Echo Mountain, Eldora, Granby Ranch, Hesperus, Loveland, Monarch Mountain, Powderhorn, Purgatory, and Sunlight. Plus, $79 midweek adult ticket (Tuesday–Thursday) or $99 weekend adult ticket (Friday–Monday); valid for two redemptions at Arapahoe Basin.
The Gold Pass – CSCUSA's exclusive pass provides unlimited and unrestricted access to 20 of Colorado's world-class mountains, all winter long. The $4,500 Gold Pass is fully transferable with no blackout dates, so it can be shared with friends, family, clients, and colleagues.
Click here for a Dropbox folder of videos and photos from opening day